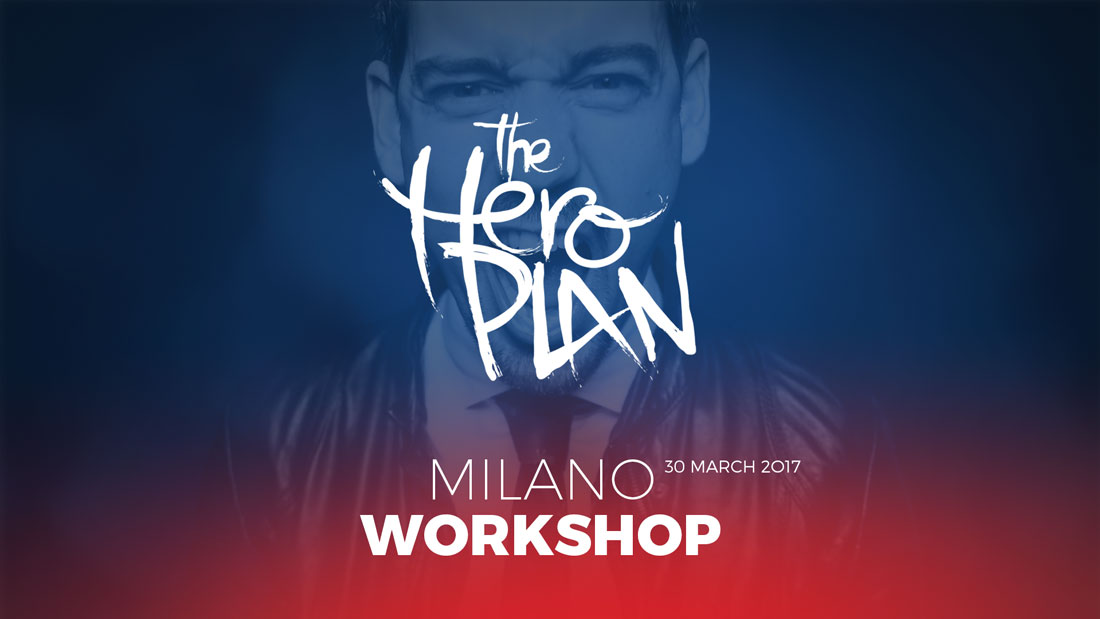 THE HERO PLAN
Workshop!
MILANO
30 march 2017
MASTER
Daniel Vecino, The Hero Plan author
DURATION
8 hours
The event will be performed in English
KEY TOPICS
The Hero Plan
Lean Strategy
Business Model Innovation
Neuromarketing
Gamification
GOALS
Learn the keys that define the winning strategy of your company
Discover the three steps of the journey to design killer proposals
Target customers analyzing their true needs
Develop focus and different proposals
Learn and apply the neuroscientific knowledge of becoming memorable
Improve our differentiating proposal with memorable experiences
Practice with the conversion rules from The Hero Plan battle board to Business Model and Lean Canvas to design your value plan
Design lean experiments to validate hypothesis
CONTENTS
THE HERO PLAN Fighting!
Focus Focus Focus, Different and Memorable: three keys of a killer proposal
The DNA of a proposal
The Hero Plan Battle Board
GOAL Focus Focus Focus
Hero: discovering our powers and weaknesses
Allies: ready to help us
The Hero Plan Mission Board
PLAN Learning through the battle
The power of the villain
Differentiating Plan
Value Plan: conversion rules from The Hero Plan Battle Board to Business Model Canvas and Lean Canvas
Neuromarketing and the science of being memorable
Emotional triggers
Memorable Plan
ACTION Learning through failure
Designing lean experiments
ABOUT THE HERO PLAN
The Hero Plan is a guide for your battle to find the killer strategy, a strategy that is focused, different and memorable.
A gamified, lean adventure that uses a Battle Board and a story with Heroes and Villains to guide you step by step all the way to the end design of a legendary proposal.
A goal you can only achieve by practical and real application of effective neuromarketing techniques.
Are you ready to fight?
MORE INFO…
The ticket includes:
+ The Hero Plan Digital English Book
+ The Hero Plan Virtual Kit
+ The Hero Plan Fighter Certificate
+ Lunch & Coffee
PRICE:
+ Early bird: 645€ (up to 31 January)
+ Standard rate: 795€
Just 30 tickets